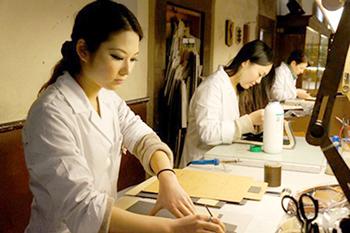 The leather working artisan course is recommended for those who would like to learn more about making handmade leather accessories and to get to know and gain experience working in the leather goods sector.
The student will acquire knowledge of the various stages of the production of a hand stitched leather bag, without the use of sewing machine, through all the stages of carving, stamping, mounting and hand stitching of the flaps and extra parts too.
The different types of leather and other raw materials will be studied on the course, as well as the production materials and accessories.
Length
The basic course lasts one month for a total of 36 hours and is made up of observing and working in the workshop for 3 hours per day, on alternate days.
On one of the days when not in the workshop, the student will practise from home, carrying out the assignment set by the master, such as leather carving and stitching, with the tools and materials provided by the workshop.
Objective
At the end of the course the student will be able to create a personal project: the bag.
Course structure
The course is divided into 4 phases, each consisting of 3 lessons:
Phase 1 - General theoretical introduction to leather working
Learning to use the tools
Phase 2 - Learning the techniques: carving, stamping, stitching
Phase 3 - Design the model and a small project
Phase 4 - Realisation of the Final Project
Course Facts
Duration
Course N°
Lessons
Class Size
Fees
Request More Information | Book Now
half day
571
3
minimum 1 student
€ 320
full day
572
6
minimum 1 student
€ 470
1 month
579
36
minimum 1 student
€ 3.125
10 weeks
574
360
minimum 1 student
€ 6.750
20 weeks
575
700
minimum 2 students
€ 12.265
Course Facts & Notes

Starting dates:
for half day, full day, 5 days and 1 month courses: on request;
for 10 weeks courses: 21 January 2019, 8 April 2019 or 8 July 2019;
for 20 weeks courses: 21 January 2019 or 8 July 2019.
A €70 enrollment fee valid for 12 months must be paid for any enrollment.