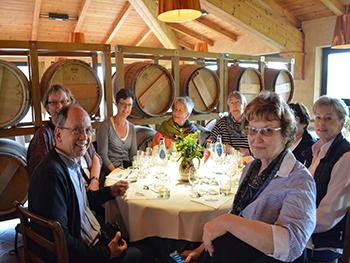 The name of course is its programme! A gentle and enjoyable way to immerse yourself in the Italian language and way of life. This course, specifically designed for adults of all ages, combines our standard intensive course, 4 language lessons 5 days a week, with a rich programme of afternoon and evening activities in the city and its surroundings.
It can last for one to two weeks and is available in 4 different periods of the year. In our city of Florence, where the crafts are still alive and thriving, you will have chance to visit artisan workshops and actually witness the making of some of the typical products, such as leather production, mosaics, and not only.
Florence is a city of art and accompanied by an expert guide, you will be able to admire some of the most important monuments! And still more: visit a winery, taste local food products, dine in a typical restaurant.... always speaking just Italian! An experience that you will definitely be tempted to repeat!!
Starting Dates
Course Facts
Duration
Course N°
Lessons
Class Size
Fees
Request More Information | Book Now
1 week
221
20 + tours & visits
minimum 3 students
€ 495
2 weeks
222
40 + tours & visits
minimum 3 students
€ 970
Course Facts & Notes

4 lessons of Intensive group language course per day; 20 lessons per week.
Visits and excursions are included and are held in the afternoons.
If there is only 1 participant he/she will be placed in an Intensive plus 5 course;

in this case, all organized school activities are free of charge for the participant.

Special price for accomodation: accomodation in single room (family with breakfast) at € 228 for 6 nights and at € 338 for 13 nights.
On request, there are double rooms available for two people together, at the price of € 348 Euro for 6 nights and of € 494 for 13 nights.
A €70 enrollment fee valid for 12 months must be paid for any enrollment.
Student Opinions
Conny Ernst
Age: 53 - Country: Swiss - Source: Testimonial
I can highly recommend this course at Scuola Leonardo da Vinci, especially when traveling alone in Florence. La Dolce Vita program provides many appealing excursions and you will get to meet many people.
Donatella, who is a teacher at the school and also the guide of the excursions, has a lot of experience, and is always ready to answer your questions.
Many thanks to all for the unforgettable memories here in Florence.
Yours Sincerely, Conny
Kazuyuki Sawamoto
Country: Japan - Source: Testimonial
I was really satisfied with the school and with the programme of La Dolce Vita. Accommodation was great and the hosting family really helpful. The informations we received about the course was adequate and we received all kid of assistance from the Front Desk della scuola. I would definetely recomend the school and "La Dolce Vita" programme.